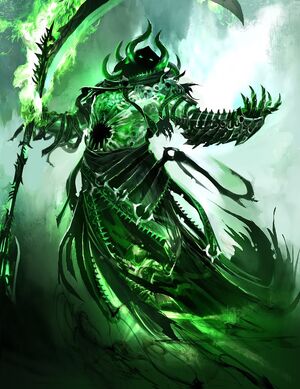 "WHO AM I??? FOOL! I AM EXOR, SON OF MORTIS!!!! I WILL AVENGE MY FATHER! I WILL DESTROY NEANNU!"

- Exor after being asked who he is by Apacamoid Necrosis in the book The Summonings.

Exor is a god of dark magic. He is also the lieutenant and messenger of Mortis, his father.
Exor is the god of dark magic. This includes Necromancy, Darkness Demon summoning, and other dark magic.
He also serves his father, Mortis, as a lieutenant and a messenger. His priority mission is to release his father from his prison. However, he tried this once, but Neannu stopped him and sealed him away to an unknown realm.
Exor was birthed from Mortis. He has no mother, as he is just a small part of Mortis' primordial matter. He was immediately ejected into Mythos with the mission of breaking his father out of his prison. As explained above, he was caught and sealed away in a spell.
Appearance
Edit
Exor's physical form is usually a large humanoid about 15 feet tall. His entire body is composed of pure dark energies. However, it looks like it is made of separate materials.
Exor also has another physical form. This is his natural form. It is only a cloud of dark energies and primordial matter. This form can be changed to what ever he desires, preferably the form explained above.